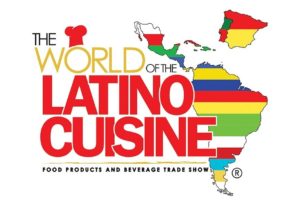 The Latino Food Trade Show, branded as the World of the Latino Cuisine, will present its 4th edition with a dynamic program on its exhibit floor, culinary demonstrations by celebrity chefs, informative workshops/educational sessions, and great tastings during the Latin Food and Wine Festival on the evening of August 23rd.
This food and beverage show, annually held at the Meadowlands Expo Center, New Jersey/New York Metro Area, features the participation of the largest food and beverage distributors active in the Latino market in the United States, mainstream marketers, domestic producers, and international exhibitors from the U.S., Canada, Puerto Rico, Mexico, Peru, Dominican Republic, Panama, Spain, and other countries.
It also includes the participation of domestic and foreign buyers.
"The Latino market continues to grow. It has a purchasing power of well over $1.5 trillion dollars,' explained Bill Colón, lead officer of the World of the Latino Cuisine organization. "Our food and beverage expenditures are close to $180 billion dollars and growing, so it behooves all savvy marketers to participate in the show and take full advantage of their exposure," added Mr. Colón.
This year the event will also feature the 2nd Annual Latin Food & Wine Festival, as part of the trade show.
The festival will be held after 5:00 p.m. at the same location, on Wednesday, August 23rd, and will include networking, food tastings of all the various Latino cuisines, wine and spirits, and cultural presentations. This section of the show is open to the general public.
This is the largest B2B show for the Latino market anywhere in the U.S. Hundreds of exhibitors and thousands in attendance. It is the only authentic and largest show of this nature in the United States.
If you would like to exhibit, contact Angie Viviel at 973-273-0273.
SOURCE Latino Food Trade Show