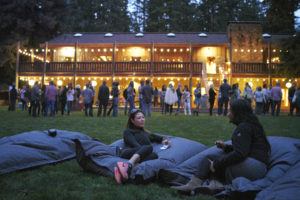 Discover Northern California's Premier 'Back to Nature' Event Facility, a Private 200-acre Property Available for Retreats, Weddings, Festivals, Camps and Creative Events
Under a canopy of centuries old trees, discover a secret hideaway that evokes an idyllic summer camp. Camp Navarro (which operates year round) offers gourmet cuisine, a staff that caters to your every need, and a selection of accommodations—including Teepee Tents, Cabins and Adirondacks, and Campsites—allowing you to be as rustic as you choose while communing with nature in its purest form.
Situated in the lush wine country of Northern California's Anderson Valley, Camp Navarro comprises over 200 acres of old growth forest nestled along the north fork of the Navarro River. A private camp for more than 100 years, in 2013 it was reborn as a nature retreat and unique event destination. Today, Camp Navarro welcomes groups to enjoy the great outdoors in an unspoiled setting that is not too far removed from civilization and less than a three hour drive from San Francisco.
Owner Dan Braun, an adventure travel guru with more than thirty years of experience in environmental hospitality, explains why he bought the camp, "I was deeply influenced by my fifteen years at a summer camp near Yosemite. Camp Navarro is the dream—a legacy campsite that is blessed with an extraordinary setting in an ancient forest on a river. Guests tell me that sleeping in this expansive yet intimate piece of nature has transformed them forever."
The campground, which was previously owned by the Boy Scouts, among others, has been upgraded to offer the most complete group camp experience. Everything radiates out from a 10,000 square foot Main Lodge (with a restaurant-quality kitchen that can provide up to 500 dinners at a time). Recent additions to the lodge include a new old growth redwood floor, new bathrooms with hand carved wood sinks, reclaimed redwood railings, a professional sound system and enhanced lighting inside and out. Most immediately noticeable are the new main door to the Lodge and a new massive stairwell, both hand carved by renowned eco-artist Tonu Shane. Other spots for holding events in the camp include an amphitheater and natural gathering places in the redwoods, riverfront meadows and oak-studded grasslands. There is power, Wifi, and event infrastructure throughout the property. Their skilled personnel, including onsite Property Manager Skip Bell, ensure everything runs to perfection.
More than 350 people can sleep in beds, and there are several charming lodging options to pick from, including upscale Teepees and East Coast-style Adirondack cabins that are open to the woods on one side—some of which have been recently converted to four season cabins. Or, fall asleep listening to the river or creek in one of the property's traditional cabins. Event attendees can also camp on their own within the confines of this redwood Shangri-la, bringing the capacity of the camp up to 1,500 people for larger festivals and events.
Guests will enjoy the woods in comfort, as all beds have upscale memory-foam mattresses and many now have innovative and cozy Rumpl bedding. Meticulous and plentiful restrooms optimize the experience, including 10 new outdoor showers built from repurposed redwood from the property.
On the culinary front, the food is a delightful surprise. Camp Navarro's Executive Chef and Chef de Cuisine are both veterans of Michelin-starred restaurants. The chefs have fresh produce to work with, supplied by the camp's new ¼ acre farm that yields vegetables, herbs and flowers. Their 1,800 square foot professional kitchen and catering operation now boasts a large portable BBQ and a convection oven, and outdoors, guest will find a Mugnaini wood-fired pizza oven. When visitors are not picnicking by the river, dining in the Great Hall of the main lodge or barbecuing at their campsite or at one of the many attractive spots around camp, they can drop by the Trading Post Café for a light meal, snack, or cup of artisanal coffee.
No camp would be complete without activities, and Camp Navarro embraces this notion to the fullest. Bonfires, arts and crafts, tug-of-war, volleyball and swimming holes are the expected, but Camp Navarro takes outdoor adventure to the next level. On offer is everything from archery on their private range to yoga and mediation sessions in the most peaceful, earth-connected setting possible, as well as spirit pole carving, outdoor movie screenings, foraging hikes and much more. The Camp Navarro team custom designs the perfect experience for each group, whether the goal is team building or just having a rollicking time. Self-guided hikes through the deep forest, along creeks, and through meadows and grassland are one of the many perks of this magnificent property.
"We have welcomed everything from corporate retreats for the likes of Google and LinkedIn to family-friendly music festivals such as Camp Deep End and Redwood Ramble, and we are the original home of Camp Grounded, the tech free Summer camp that started the Digital Detox movement," continues Braun. "We also host specialty camps and smaller gatherings, and our weddings are particularly distinctive, given the magical setting and our staff's attention to detail."
Minutes from winetasting and close to all that Mendocino County has to offer, including charming boutiques and restaurants, breathtaking beaches and stunning coastline, Camp Navarro's guests experience California the way it used to be, while their staff's sensitive stewardship of the land ensures that Camp Navarro will provide that same authentic experience to generations to come.
The rate for a buyout of Camp Navarro differs based upon the time of year. During the low season (December – April), rates run from $5,000 to $20,000+. During the high season (May – November), rates run from $15,000 to $75,000+.
Along the scenic Highway 128 in the heart of Mendocino County's Anderson Valley Wine Country, the property is a two and a half hour drive from San Francisco and SFO, a three and a half hour drive from Sacramento and SMF airport, and a one and a half hour drive from Santa Rosa and STS airport. There is ample parking for buses, large groups, and trucks, with easy access on and off the highway.