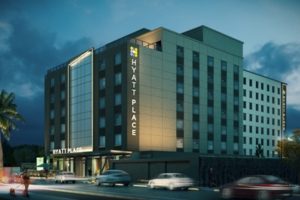 Elandis, an international hospitality and real estate ownership, development and property management subsidiary of the Libra Group, announced today that it has completed the structure of Hyatt Place Macaé Hotel in Brazil. The 141-guestroom hotel is a joint project development with an affiliate of Hyatt, and will be located 110 miles northeast of Rio de Janeiro. The oceanfront hotel is slated to open in February 2018.
Hyatt Place Macaé is part of a large master development agreement between an affiliate of Hyatt and Elandis, to develop a total of nine Hyatt Place hotels throughout Brazil. Hyatt Place Macaé is set to be the second Hyatt Place hotel opening, joining Hyatt Place São José do Rio Preto, which opened in November 2016.
"We are excited to be completing the building's highest floor marking a significant accomplishment in our industry. It is rewarding to reach this milestone within the predefined timeframe," said Alexandros Kallantzis, Head of Brazil of Elandis. "This hotel will both address the robust business segment of the area, as well as leisure travelers. We see a lot of potential for weekends as well as it is an appealing area that will likely expand in the short-term as a destination."
Construction of this project commenced in December 2015. With the finalized structure in place and more than half of the construction activities completed, the hotel development is on track.
Centrally located in Cavaleiros, a vibrant beachfront neighborhood, the new ocean-facing Hyatt Place Macaé will additionally feature a rooftop swimming pool with snack bar, a fitness center, more than 1,700 square feet of flexible meeting space, a lobby lounge and restaurant.
Known as an economic hub for the petroleum industry, the city of Macaé services the majority of Brazil's off-shore oil platforms and serves as the location for numerous global corporations to establish their headquarters.