LBA Hospitality's Dual-Branded Hotel Now Serving Guests in Clearwater Beach, Florida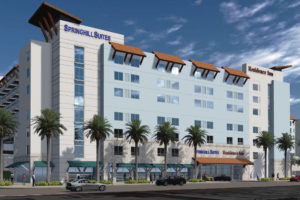 LBA Hospitality is proud to announce Residence Inn Clearwater Beach and SpringHill Suites Clearwater Beach are now open. Developed by 3H Group, Inc. who entered a joint venture with Key International upon opening, the Marriott dual-branded hotels will include 140-suite Residence Inn and 115-suite SpringHill Suites in Clearwater Beach. Located at 309 Coronado Drive, the hotels offer access to the Clearwater Beach Marina, downtown Clearwater, Pier 60, Clearwater Marine Aquarium, Sand Key Park, the Cleveland Street District and St. Petersburg-Clearwater International Airport.
Co-located under one roof, the fusion of these two unique and powerful Marriott brands on Clearwater Beach allows guests to take advantage of a variety of room types, amenities and services at one address, while providing common social space for the ultimate experience. For example, the properties share an outdoor swimming pool with an expanded sun deck and marina views, a state-of-the-art fitness center and covered valet parking for the guests' enjoyment.
To accommodate larger parties, the hotel features three separate meeting rooms including The Coronado Room, The Mandalay Room and The Gulfview Room, a total of over 2,400 square feet of meeting space. Both hotels are pet friendly and offer complimentary breakfast, free Wi-Fi and Marriott's new MVP Guest Entertainment Technology featuring over 40 HD channels, an interactive guide and streaming capabilities for Netflix, Hulu, YouTube, Pandora and Crackle. In addition, the property includes 7,000 square feet of ground floor upscale retail space for shopping and dining and ideal proximity to the marina, all ideal forms of entertainment while on the coast.
"We are pleased to offer two brand-new, centrally located hotels in Clearwater Beach," said LBA President Beau Benton. "This new property marks LBA's first time managing in the market and offers us the chance to serve more visitors, business travelers and families looking for an affordable, convenient and enjoyable stay in two outstanding custom-designed hotels."
The Residence Inn Clearwater Beach is designed for stays of five nights or more and offers a variety of guest room options such as studio, one-bedroom and two-bedroom suites featuring plush mattresses, crisp linens, a well-lit work desk, ergonomic chair and complimentary high-speed Wi-Fi. In addition, each Residence Inn suite has a fully-equipped kitchen with a coffeemaker, microwave oven and residential-sized appliances. Beyond the rooms, road warriors and families alike can enjoy the hotel's grocery delivery service, 24-hour onsite food and beverage market, dry cleaning services and onsite guest laundry room.
Additionally, the new SpringHill Suites Clearwater Beach offers guests a fresh take on mixing business with pleasure by providing enhancements to help them enjoy their time away. Features include separate living, working and sleeping spaces with a modern, stylish design for flexibility and functionality highlighting an exclusive assortment of furniture and accessories from the hotel's partnership with West Elm. From the guest rooms to the lobby, every aspect of design – from furniture and lighting to colors and fabrics – has been carefully designed to evoke calm and refreshing spaces that allow guests to relax and recharge. The lobby features a brand new design that adds depth and sophistication to the décor and therefore is a great venue for conducting casual meetings or to socialize.
To support the growth of these two hotels, LBA Hospitality has named Ron Bitz general manager and Kelly Clark director of sales. Bitz, who has over 35 years of hospitality experience, most recently served the southeast region's Hampton Inn and Suites and Hilton Garden Inns as area general manager. As his complement, Clark brings 15 years of hospitality experience to her position at this new Marriott dual-branded property. In her last role of director of sales at a Hilton hotel in the area, she strategically grew revenue for the property and built long-lasting relationships with prominent members of the community.
For more information, visit LBA's full list of properties on their website here, including Residence Inn Clearwater Beach and Spring Hill Suites Clearwater Beach.
About LBA Hospitality
Founded in 1973, LBA Hospitality is a full-scale hotel management, development and consulting firm. With more than 70 properties in 10 states, LBA Hospitality is the premier hotel developer for the South- east. For more information, visit www.lbahospitality.com.