Travel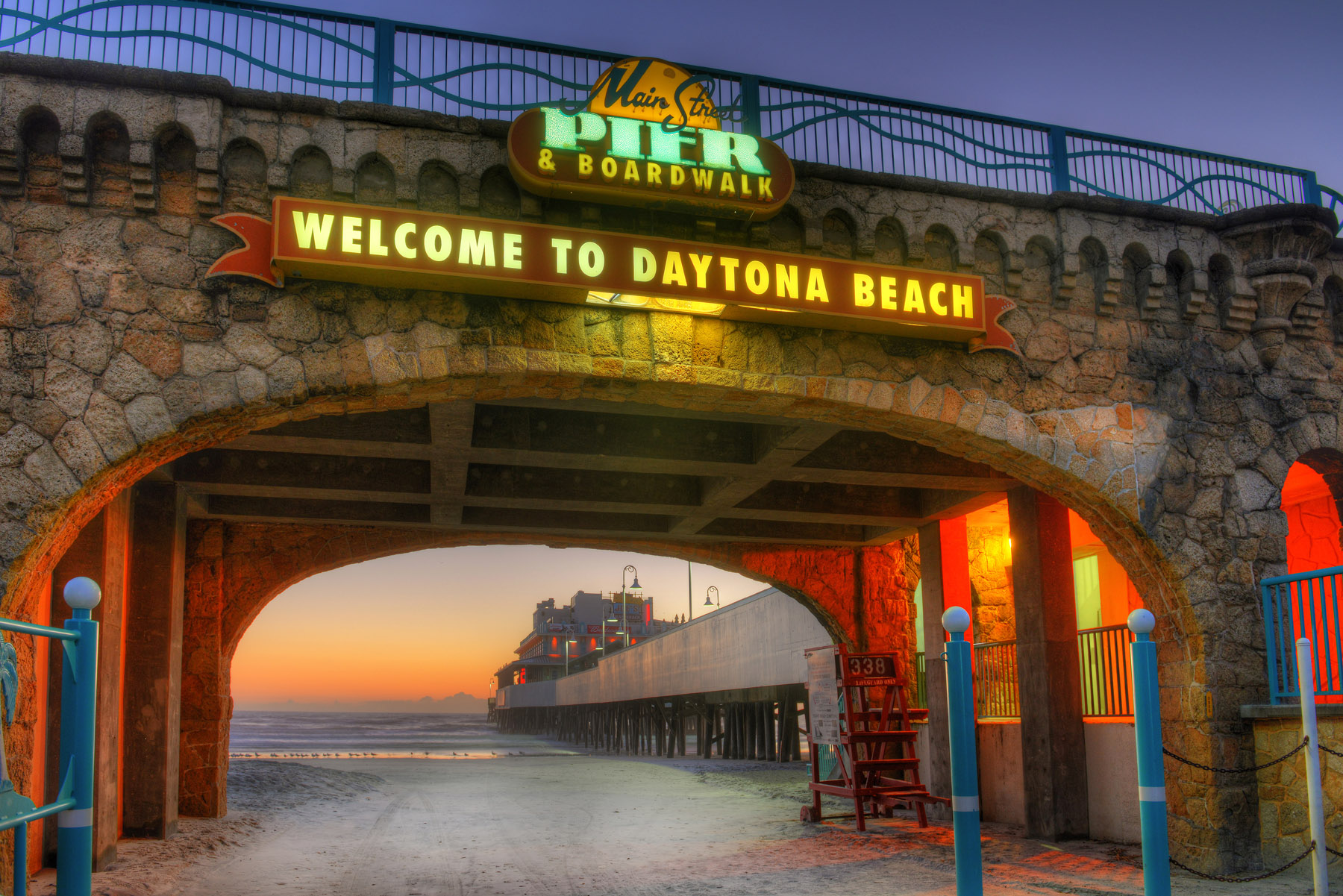 Discover the Unexpected in the 'New' Daytona Beach
Visitors are discovering a new Daytona Beach – an exciting chapter in the destination's history showcasing its racing heritage, idyllic East Coast oceanfront location and impressive arts affiliation. The area is in the midst of investing more than $1 billion in renovations and construction, all of which making for an even more exciting vacation stay. Now open are Daytona Beach's first oceanfront rollercoaster and the world's first oceanfront Hyatt Place. Currently underway is a $400 million expansion at Daytona International Speedway, and the Cici and Hyatt Brown Museum of Art that will house the world's largest collection of Florida art. In the planning stage is a new Hard Rock Hotel & Café set ! to open in 2016. These additions – and an eclectic culinary scene, off-the-beaten-path attractions for thrill seekers and year-round cultural events – offer visitors unexpected delights on their Florida beach vacation and have led to Daytona Beach being selected as one of the Best Florida Attractions in the Top 10 Best Readers' Choice travel award contest sponsored by USA TODAY.
Surf, Splash and Ride at Daytona Beach Boardwalk & Pier
The Sand Blaster rollercoaster, a first for Daytona Beach, opened in August 2013, at the Boardwalk & Pier. Measuring 80′ tall, 212′ long and racing passengers at speeds of up to 50 mph, this exciting new ride is surprisingly affordable at just $6. Join in the fun along the oceanfront Boardwalk where outdoor and indoor attractions flank the classic arcade built in 1938 and the latest addition, Joe's Crab Shack.
Oceanfront Hyatt Place Elevates Beachside Accommodations
The world's first oceanfront Hyatt Place opened in October 2013, offering direct beach access for 143 rooms, and an expansive oceanfront pool and spa with pool bar. Families enjoy its pet-friendly status, the complimentary Kitchen Skillet™ breakfast, and private balcony and Cozy Corner™ sectional sleeper sofa in every room. Business travelers appreciate the property's sleek style, 24/7 Gallery Café serving Starbucks® drinks and 24-hour StayFit@Hyatt.
'World Center of Racing' Reimagines an American Icon
Race fans will rejoice over the DAYTONA Rising Project – a $400 million overhaul at Daytona International Speedway that will create a world-class facility with premium amenities and unparalleled conveniences and experiences when it opens in January 2016. By the numbers – three new concourse levels that will span the frontstretch; five expanded and redesigned fan entrances called 'injectors'; 11 social areas dubbed 'neighborhoods,' each the size of a football field with open sightlines and dozens of video screens so no one will miss the on-track action; more than 60 new luxury trackside suites with patios; 14 elevators and 40 escalators in the new grandstand; and, 101,000 new 20"-21" grandstand seats featuring backs an! d arm rests.
Bring on the Music – Hard Rock Hotel Proposed for 2016
The legendary Hard Rock vibe is coming to the iconic Daytona Beach shoreline. The Hard Rock Hotel Daytona Beach is currently in the planning stages with the property slated to break ground at the end of 2014 with construction completed in late 2016. Its synergies are synonymous with the destination – incredible hospitality, and a great affinity for live music, entertainment and special events. Hard Rock Hotel Daytona Beach will feature 250 guest rooms, the world-famous signature Hard Rock Cafe, two rock star suites, Body Rock® workout facility, Rock Spa® and a pool area complete with a bar and grill. The Residences at Hard Rock Hotel Daytona Beach will offer 107 luxurious condominium units for purchase. Meetings guests will enjoy more than 28,000 square feet of ballroom and banquet space, and music and pop culture lovers will appreciate the music memorabilia lining its walls. Applauding roc! k 'n' roll, the hotel will also feature the innovative, interactive amenity 'The Sound of Your Stay®', allowing guests to jam with a hands-on music experience.
World's Largest Collection of Florida Art Coming Soon
The Museum of Arts & Sciences is welcoming the Cici and Hyatt Brown Museum of Art, a $13 million facility filled with 2,700 paintings dating from the 19th century, the most extensive collection of Florida art worldwide. Slated to open February 8, 2015, the 26,000-square-foot home of the Brown's unprecedented collection will also feature a mezzanine showcasing their signature pieces, six changing galleries, conference and education rooms, a café with outdoor seating and a gift shop. A preview exhibit, "Women Painting Florida," is now open at the Museum of Arts & Sciences.
National Retailers to Anchor 'One Daytona' Development
Nearly 1.1 million square feet of premier shopping, dining, accommodations, theater and entertainment are planned just steps from the 'World Center of Racing' and minutes from the 'World's Most Famous Beach' on 181 acres along International Speedway Boulevard. Bass Pro Shops®, America's most popular outdoor store, and Cobb Theatres, the highly respected Southeastern-based exhibitor, are confirmed to anchor One Daytona.
Daytona Beach Tortugas Take the Field
Minor League Baseball is hot in Daytona Beach! In 2015 the new Daytona Beach Tortugas baseball team, an affiliate of the Cincinnati Reds, will take to the field. Games will be played at historic Jackie Robinson Ballpark in scenic downtown Daytona Beach. Fans can watch the all action – coupled with stunning views of the Intracoastal Waterway – from high atop the field. It's a view, and an experience, not to be missed.
Foodies Crave Daytona Beach Dining
Since the debut of last fall's foodie celebration, Dine Around Daytona Beach, the area's culinary scene has exploded with new offerings. The month-long restaurant program introduced visitors to off-the-beaten-path eateries and independent restaurants serving specialty fare. Local and visitor favorites include the vegetarian-friendly Dancing Avocado Kitchen, newly-opened Kale Café and Juice Bar specializing in vegan cuisine, the Florida seafood-inspired Azure, and Fusion 43, serving fresh seasonal menu items.
Challenging Greens on Par with All Tastes and Handicaps
Recently ranked in the top 15 places to play golf in the U.S., Daytona Beach offers numerous courses for the serious player and weekend warrior. With year-round affordable greens fees, visitors can choose to play where the pros do – LPGA International, home course of the LPGA Tour – or choose from more than 20 other fine courses, all participating in Discover Daytona Beach Golf.
"The Festival Capital of Florida" Plans for an Exciting 2015
From arts and culinary to classic cars and motorcycles, the Daytona Beach area celebrates a multitude of interests with its year-round events and festivals. Fall's comfortable weather also draws visitors to its numerous events like the film festival, air show, blues festival and the 42nd annual Turkey Run.
Thrill Seekers Enjoy High-Speed Attractions
Along with the all-new rollercoaster, Daytona Beach offers visitors plenty ofadventure that you won't find at any other beach destination. How about ziplining through the treetops at ZoomAir Adventure Park? Or, if your need for speed would be better served on the ground, then get behind the wheel of a racecar at the Richard Petty Driving Experience taking a lap around the world famous 2.5-mile Daytona International Speedway.
About the Daytona Beach Area
Discover the new Daytona Beach and its surrounding area, a resurging destination along Florida's East Coast comprising eight distinct communities. Recognized worldwide for its annual events including Bike Week, Biketoberfest®, Rolex 24 at Daytona and the Daytona 500, Daytona Beach's famed heritage also claims the U.S. headquarters of LPGA and NASCAR and is home to Daytona International Speedway, the 'World Center of Racing.' With more than 15,000 beds, the destination boasts accommodations for all lifestyles and budgets including resorts, B&Bs, hotels and everything in between. Visitors can enjoy the quintessential vacation experience beginning with the Daytona Beach Boardwalk and Pier, or choose from a surprising list of attractions and cultural venues and a colorful culinary scene. With 23 miles of world-famous beaches ideal for shelling, swimming and surfing, it is no surprise Daytona Beach was cho! sen as a Best Florida Attraction in the Top 10 Best Readers' Choice travel award contest sponsored by USA TODAY. To order a complimentary comprehensive Official Visitors Guide, visit DaytonaBeach.com. For real-time updates, visit us onFacebook or Twitter.